I've been trying to do a better job at documenting my weekend, because hello, I'm a blogger and the weekend didn't technically happen if you don't have pictures to prove it. Everyone will just think you binge-watched Hart of Dixie on Netflix instead. Well, that did actually happen yesterday, but who cares? Side note: if it weren't for Rachel Bilson, I probably wouldn't watch the show.
Friday: I worked at home and actually felt accomplished. I got so many meetings set up for the remainder of the year. I don't know why I'm not allowed to work at home more often, seriously! I then went to the pool but I was too lazy to take pictures and I don't need to be traipsing around my blog in my bikini anyway. And then I met up with Valerie at a potentially-cute bar for a couple drinks and it was like we've been friends forever! I say potentially cute because it was still really early and we were surrounded by old men, and three women that thought having two arms full of Alex and Ani at age 35 was
really
cool.
Saturday: We went to the lobsterfest in Bradley Beach and I got the lobster quesidilla. It was SO good. I was too chicken to try the lobster rolls because I'm not to keen on mayonnaise and was worried I would hate it and waste ~$20. It was so freaking crowded. We almost gave up, but I decided to park closer to Avon and we walked about a mile but I didn't care. Then we saw baby Isabella and she's just honestly the most precious baby to exist and she was wearing the world's most adorable baby-romper ever. We also matched so that was exciting too.
Sunday: I already told you, Hart of Dixie ALL DAY LONG. I could not leave the couch. First it was sunny, then it was cloudy, then it was rainy, then it was sort-of cloudy, then I couldn't decide if I wanted to go to the pool but ultimately laziness won. I then decided it would be a good idea to go to Marshall's because I needed a shopping fix and walked out with a hundred dollars in shit. What is wrong with me?
DKNY Shower curtain, I was sick of my old one!
A new TMNT shirt for Michael
A candle holder which will be used as a pencil/pen cup in my new office at work (will update you soon on this)
The cutest frame I ever laid my eyes on
A clear plastic cube box for colored paper clips, obviously
Some kind of note pad that was irresistible
A PURSE (OMG i know.)
A gift bag that I really didn't need but it was cute and came with matching tissue paper for $1.79 I can't pass this garbage up.
I think that's it. Honestly, you can all give me a pat on my back because I passed on TWO shoe purchases. Since I've been lovin on Peanut so much lately (how could I not?), I included a cute pic of Mr. Linus being a lazy bag of bones on the buffet server. Here is a photo dump, you are welcome :)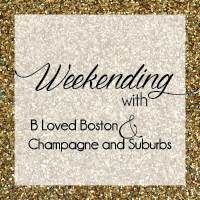 Linking up with Biana! <3